Enjoy brighter, whiter teeth for a more confident smile and a happier you
At Dutch Barton Dental Practice we offer teeth whitening treatment that is easy to use, convenient and gives excellent results.
As one of our most popular cosmetic dental treatments, we like nothing more than seeing our patients enjoying their brighter smile. This treatment not only whitens teeth but also removes staining and discolouration caused by factors such as smoking, certain drinks and foods.
The Treatment
We use a tray-based whitening system which allows you to take control of the whitening process at home and at your convenience.
Initially you will attend the practice for a dental examination and clean, we will then provide custom trays which will be made by a laboratory.
Your dentist will show you how to fill the trays with the whitening solution and discuss how long you should wear them for. Most patients see results within two weeks of treatment and your new brighter colouring can last for up to three years.
Home-based teeth whitening treatment is very safe, minimally invasive and can completely transform your smile.
Airflow Tooth Polishing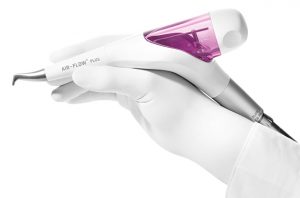 We also offer patients Airflow Tooth Polishing; a sophisticated cleaning system which removes staining, discolouration and can leave your teeth noticeably brighter.
The Airflow system removes staining from a tooth's surface and helps to freshen breath by removing bacteria and plaque build-up from the gum line.
This advanced cleaning technique is carried out by our dental hygienists. It is less invasive than usual cleaning methods as there is no direct contact with the teeth, instead the dental surface is cleaned by a high-pressure jet stream of water, air and fine powder particles.
If you are interested in achieving a brighter smile, speak to one of our helpful team about which treatment will suit you best.