Keeping your teeth and gums clean, healthy and strong
Our experienced hygienists support you to care for your teeth and gums, helping to prevent problems such as decay or gum disease and enhancing your general oral health.
As part of our commitment to preventative dentistry, we support our patients to maintain a positive home care routine and – where needed – encourage regular appointments with our hygienists to ensure long term dental health.
As well as cleaning your teeth and gums, our hygienists offer:
Dietary advice to support a healthy oral system
Demonstrations of all necessary cleaning techniques.
Advice around caring for your children's teeth
Monitoring gum health
Referral to a dentist if further examination or treatment is required
Smoking cessation advice
Airflow Tooth Polishing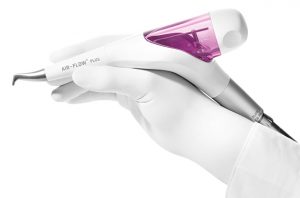 We are pleased to offer our patients Airflow Tooth Polishing; a sophisticated cleaning system used in conjunction with traditional scale and polish methods.
The Airflow system successfully removes staining from a tooth's surface which can be caused by beverages such as coffee or red wine or by smoking. It also helps to freshen breath and brighten the teeth, removing bacteria and plaque build-up from the gum line.
This advanced cleaning technique is gentle and less invasive than usual cleaning methods as there is no direct contact with the teeth. Instead the dental surface is cleaned by a high-pressure jet stream of water, air and fine powder particles. As there is no pressure or instrument applied to the teeth, the process is comfortable, quick and highly effective.
An added advantage of Airflow Tooth Polishing is that it removes bio film – a sticky bacterial substance – that builds up on a tooth's surface and can cause decay. This cleaning process is very beneficial in helping to care for dental implants, crowns and bridges.
We believe in offering our patients the latest dental technology to ensure their long term oral health, and the Airflow Tooth Polishing system is just one example of our investment into your dental wellbeing.
Treatment fees
The following prices provide a guide to our treatment costs, which may vary depending on your individual treatment requirements. Fees also differ based on the number of teeth involved and the materials used for your particular case.
The Dutch Barton Dental Practice team will always provide a treatment plan that includes prices to ensure you are informed at every stage.
Membership plan available
At The Dutch Barton Dental Practice, we have partnered with Denplan – a membership scheme providing you with ongoing cover and worldwide insurance at a reasonable monthly cost.
For more information about joining this scheme please call us on 01225 862377 or email our team on info@dutchbartondental.co.uk.